Our search for Summer Trainees 2024 will start soon!
Our 2024 Summer Trainee application period is 15.12.2023-15.1.2024.
Stay tuned and be the first to tell us about your next goals!
Summer Trainee -program
A summer job where you can shine
As our Summer Trainee, you get to grow and challenge yourself in the early stages of your career. The Trainee period is your chance to shine! You get to influence how you progress in your tasks and build challenging goals together with your team and your team lead.
As a trainee, you get to start your career in one of Finland's leading software houses, where we work passionately to promote customer satisfaction and growth.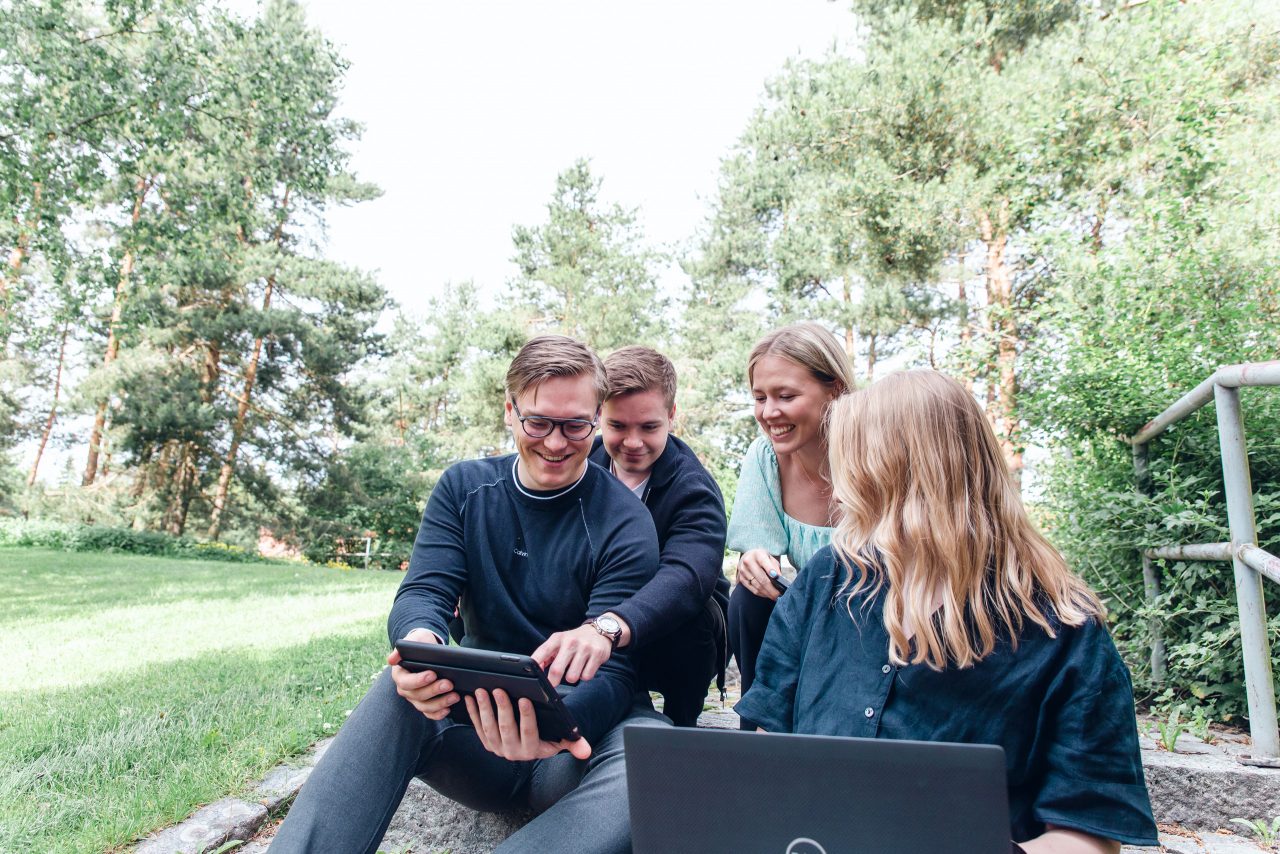 Jump into the world of interesting software products
Freedom and responsibility
We find it very important to provide our trainees with the opportunity to engage in real-life, hands-on projects and work on interesting topics. Our goal is to enable everyone to work in a manner that aligns with their preferences and personal styles. With flexible working hours and the option to work remotely, it is easier for you to coordinate your working days and integrate work into your daily routines.
#BeOurSolution
Our trainees have an impact on the company's future right from the beginning, just like those who have been with us for a longer time. Everyone's contribution matters to us.
It is essential for us to listen to the trainees' thoughts on the direction they want to develop in the future, and provide suitable challenges and support during their employment. Each trainee has a designated mentor to discuss any questions or concerns on their mind.
Responsible Summer Job
We want every Summer Trainee to make the most out of their trainee period. We participate in the Responsible Summer Job campaign and are committed to its principles of providing a good summer job experience.
In the summer of 2021, we achieved first place in the competition. Our specific strengths were the high evaluations of onboarding and guidance, as well as fair and equitable treatment, which were rated as the best in the series.
Working alongside studies
Code while studying
Our summer trainees often continue working with us part-time alongside their studies. You can easily combine your work and studies when you have the freedom to schedule your work days and utilise for example our branch office located in the LUT University premises.
Koodausta & Kisailua / Coding & Competition 2023-24 Dev Challenge
Are you a student of information technology or programming and interested in a Summer Trainee position in our product development team? Would you like to showcase your coding skills in a coding competition?
Every year, Visma Solutions organises Coding and Competition event that usually takes place in our Lappeenranta office. This is a chance for the teams to compete for the title of the best coding experts! At the same time, participants have the opportunity to impress our hiring managers! The previous Coding and Competition was held on the 30th of November 2023.
Visma Solutions as a company
Visma Solutions is a part of the Visma Group, the largest SaaS company in Europe. We are a software company with the goal of simplifying, streamlining, and supporting the daily lives of our customers through modern software solutions. Visma Solutions has been awarded the "Hyvän mielen työpaikka®" (Workplace of Good Feelings) recognition for our commitment to enhancing the mental well-being of our employees.
The well-being of our employees is of utmost importance to us. In addition to a pleasant and relaxed work environment, we offer modern tools and employment benefits that support work-life balance.
45%
in Product Development
67
eNPS (employee satisfaction)
37
years of age on average
13
different nationalities
23,8%
annual growth on average
Have you already graduated or are you looking to work alongside your studies? Check out our other open positions!