Is your organization prepared for the upcoming winter?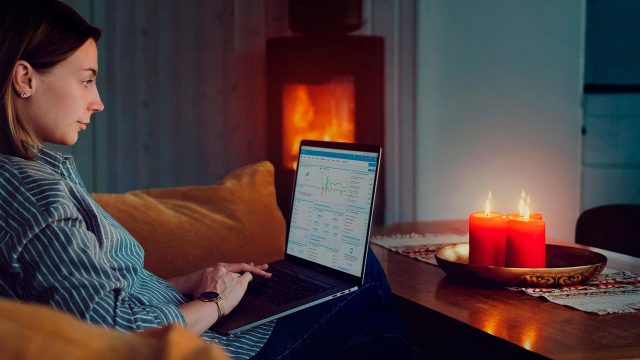 There are headlines in the news telling us daily about the possible electrical disturbances we might be facing during the upcoming winter season. There are even possibilities that planned power outages will be needed to balance our power grid if the consumption of electricity is larger than what is being produced.
Households have been told to prepare survival kits for 72 hours in case of emergencies, but how about companies? How is your business prepared for emergency situations?
The Finnish business community took a giant leap in digitalization when Covid hit Finland. Many organizations had to take the necessary steps to make sure their employees were able to work remotely and take care of their business.
These actions will also help the companies with the upcoming challenges as the location-dependency of work has been cut at least for most part and a big part of jobs are able to be done from anywhere. A major influencer in this are the modern information systems that provide the services companies need to run their business and today most of these services are available as cloud services.
Cloud services are engineered to stay up
A responsible cloud service provider will make sure that their services will be available also under exceptional circumstances. Cloud services like Netvisor or Severa, are often hosted in the data centers of trusted hosting partners.
These companies are professionals in making sure their data centers are prepared with multiple-level backups for the network connections, power and storage systems. The data centers are equipped with generators and backup power systems, which enable the critical services being provided also during the possible power outages in the main power grid.
Therefore cloud services will be available anytime anywhere, even if some parts of the country would be suffering from a power outage.
When preparing for the possible emergencies, it's always good to think about the whole chain of operations and systems
Modern organizations are often utilizing multiple systems that discuss with each other through integrations. When preparing for the possible emergencies, it's always good to think about the whole chain of operations and systems that the business needs and how these systems will be working under an emergency situation.
Especially if some of the systems or integrations are running on local servers located in the dark corner at the office, it's wise to think about moving these implementations to a data center.
Read also about Netvisors data security >> (in Finnish)
How to make sure employees can use the cloud systems?
When a company is using trustworthy systems, the next thing to consider is how their own employees are able to use these systems during an emergency. Primarily the use of a cloud service only requires an end-device with an internet connection and power for the device. Most common end-devices are laptops, but also cell phones and tablets can in many cases be used for using the cloud services.
In office environments, a backup network connection is often packaged with the actual office internet connection from your telecom operator. These might be based on a duplicate fiber connection or they might use mobile technology, but when preparing for a power outage with these connections, it's always good to have the backup power too.
It might actually be more feasible to make the preparations for the power outages per individual user than to enable the whole office infrastructure to be behind backup power systems, but this of course depends on the organization. Organizations might also choose to protect only their core infrastructure with the battery backups leaving the actual working infrastructure outside the scope.
It might be more feasible to make the preparations for the power outages per individual user than the whole office infrastructure
For personal use, the battery for the laptop or a mobile device of course lasts for a while, but in addition it's easy and affordable to organize some backup power for these devices. Battery banks are available almost everywhere with minimal costs and you can easily prepare for a few hour power outages with them.
When thinking about the preparation regarding network connection availability, you should always consider the locations you need to use the services from. If you need to use the cloud services anywhere, a good first step is to make sure you are able to share your mobile phone's internet connection to your laptop.
You should also think about getting a sim-card from another mobile operator, maybe as a prepaid card. This will help you to enable internet connection even if there would be some disturbances in your own mobile operator's network. This additional sim-card could then be used in a separate mobile router or as a secondary sim card in a mobile phone.
Can you reach your data in case of an emergency?
When preparing for power outages, it's also really important to acknowledge what data is available during a power outage and what is not. Storing the most important data to the organization's trusted cloud environment is a good practice.
In addition it would be wise to gather the key contact details and outlines of the company's procedures and instructions as paper prints in a closed envelope and have this envelope in the laptop bag. This way the necessary information is available at all times.
The most crucial business secrets shouldn't be printed though, but they should be stored in a more secure way in a trusted cloud environment.
Storing the most important data to the organization's trusted cloud environment is a good practice
Most organizations are using secure authentication methods to log in to their systems and also these should be thought through for preparation for emergencies. If the usually used methods like bank authentication doesn't work for some reason, all users should have a backup option in hand.
For example the Mobile ID or the Netvisor Mobile app will enable logging into Netvisor anytime anywhere even if the bank authentication methods would have some issues.
Be open and prepared!
When an organization uses some time for preparing for emergencies and makes sure that their employees know how to act in those situations, it will enable the businesses to have minimal effects from the disturbances. Be open about the possible risks within your company and how people should react if they are materialized.
If employees are able to take care of their duties over mobile networks from their home in the candle light during a power outage or from their summer cottage by the fireplace by using a trustworthy cloud-based system, it will keep the businesses running and our society up. We will then all benefit from this in the long run.