As a Management Trainee at Visma Solutions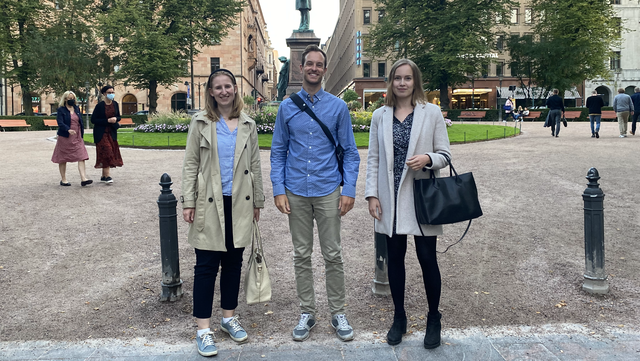 Hi, I'm Daniel, a Finnish-American business graduate who double majored in international management and both entrepreneurship and innovation management at Aalto University. Like many other recent graduates, I was not sure what I wanted to do after I graduated.
I found out about the Visma Management Trainee program through a career event at the school and immediately knew that the possibility of doing five strategically important projects in different countries and functions would allow me to explore my known and unknown interests amongst various teams. Working in a large technology company with strong Nordic presence felt like the right choice.
My first of five strategically important projects as a Visma Management Trainee was at Visma Solutions where they selected me to join their marketing team based partly on my interest in behavioral economics. The company provides automated software solutions in areas such as accounting, online signatures, and project management for SMEs.
Because Visma Solutions is a growth company you can see and feel the drive people have. Besides the drive, everyone was extremely welcoming even though I was on the team for only 10 weeks.
What I did
My responsibilities during the 10-week project included understanding the current brand image of Netvisor, the market leader in its category, and providing guidance on the opportunities and direction for the future.
In practice this meant understanding the customer journey from start to finish by researching how the product appeared in search results, what the feel was in the trial, what the sales, onboarding and customer support processes were like, and understanding the customer point of view through interviews. While I worked on the marketing team in reality, it was a team effort of all the other functions involved in the process.
At the back of my mind I tried to think about how the parties involved felt, what kind of brand image was portrayed, and was the image consistent throughout the journey. At the end of the project I held a presentation of my findings to the product marketing team along with some of the people involved in the customer journey process.
What I learned
So much. I was surprised how fast I was able to pick up on things regarding the internal workings of the company.
First, you don't need to be a technical expert of software products to thrive, grow, and learn at a tech company. Trust me. My background is purely from business, far from engineering or computer science.
Second, while working on the marketing team, I noticed that you need to work as a team, involving other functions as well to get a complete picture of a customer journey and image.
Third, there are no stupid questions. No need to worry about asking too many questions. Be the "idiot" in the room, learn from others, get a fresh perspective and soak it in.
The time flew by at Visma Solutions. Thank you for welcoming me to the team and I'll be sure to take the learnings with me as I head to Norway for my second project.
About the author
Daniel Cohen is taking part in Visma's Management Trainee program. He is working his way through different Visma companies and is passionate about behavioral economics and obstacle course racing. He is also a podcast addict with his favorite ones being Freakonomics radio and NPR: Invisibilia.
For more information on the Management Traineeship in English and in Finnish.