Learning & development at Visma Solutions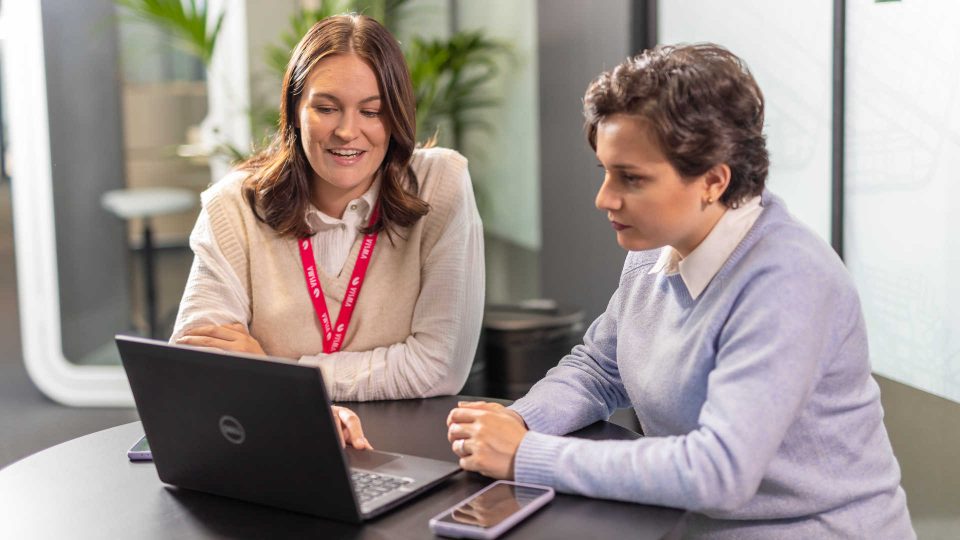 Learning & development (L&D) has been recognised as a strategically important focus area at Visma Solutions. We want to be recognised as a company that provides opportunities for growth and development for everyone, no matter what your job is. So how do we support development and how does it show to our colleagues?
First and foremost we encourage people to spend time on learning and development activities during their day. Of course it can be challenging to find the time to do something other than your daily tasks, but everyone has full support for doing this from their leader. For example, our marketing team has "Flaming Fridays" booked in their calendars meaning that every Friday is reserved for learning & development activities, and in our research and development (R&D) the policy is that 10% of working hours should be dedicated to L&D.
We have a culture where we aim high; we set challenging objectives for each quarter and for that, we have something called "Objectives and Key Results (OKR) discussions". In these OKR discussions development is the priority; we reflect on prior months and plan for the future. At least one of the objectives should always be related to L&D, which raises the importance of learning among other responsibilities. Once developmental activities are part of your OKR's, they become part of your work and feel an acceptable activity to be doing during working hours.
We believe in the power of coaching as part of our leadership
Our leaders are being trained to hone their coaching skills and they are encouraged and supported to use those skills in their day-to-day discussions with their team members. Through coaching we encourage and empower our colleagues to find their own development goals and directions. Coaching style leadership also supports our culture to be self-organised – everyone has the power to decide how they do their work best and where. This of course requires skills from everyone, but at the same time it also gives room for development. If you find yourself in a situation where you don't know how to do something, you can just explore it and become an expert!
This is by far the best investment into my career.
We have also already for several years run mentoring programmes; both internal and external. The programs have always been very popular and received excellent feedback from mentors and mentees. Last year, for example, we received the following feedback: "This is by far the best investment into my career".
The external mentoring programme "Visma Solutions Fellowship" is aimed at students, or anyone who's at the crossroads of their career and studies, and interested in working in the software development industry. Our internal mentoring program is for our employees and one can sign up at any time during the year. Based on the experience, background and goals we'll match the mentee with a suitable mentor. We have been running these mentoring programmes for several years already and always received excellent feedback – time invested in the meetings and preparations between them, is well paid back with fresh ideas and thoughts regarding one's goals. What is great about mentoring is that the learning isn't just one way; both mentors and mentees will learn alongside each other. In addition to Visma Solutions' own mentoring activities, mentoring is also provided at Visma level in Finland.
So far, I don't think anyone's attendance on a training course, for example, has been denied if there has been a clear need for it.
We of course also arrange numerous training sessions both internally and with external partners. The topics of the training courses are always based on identified business needs and arranged flexibly within different functions. Also the budget for learning and development is not set in stone; we assess the needs and then make budgetary decisions. So far, I don't think anyone's attendance on a training course, for example, has been denied if there has been a clear need for it. We also have a wide selection of elearning courses available, so that our employees can study when it's most convenient to them. Recently we also took in use an elearning authoring tool to create our own content – we have a huge amount of skills and knowledge within the company, now it's time to start sharing it actively.
Our employees are from diverse backgrounds, so we want to support everyone to feel included
As our company language is English, we provide language training for everyone who wants to brush up and improve their English skills. We are also there for our non-Finnish speaking colleagues by supporting their Finnish studies to ease interactions with their Finnish colleagues and life here in Finland.
One of the most exciting recent L&D development initiatives is our Talent Pool
We started Talent Pool as an experiment in the beginning of the year and already we can say that it's been a success! Anybody can register in the Talent Pool and let us know their strengths, experience, what they would like to do next in terms of their career and if they would like to receive career coaching. This way we are able to support our colleagues better to find new challenges within Visma or extend responsibilities beyond their current role. Of course we can not guarantee that we'll find new opportunities for everyone, but at least if we are aware of our colleagues' career aspirations, we are able to help. Everyone who registers in the Talent Pool will be contacted and we'll have a chat with the applicants to see how we can best support them.
As I mentioned in the beginning of this blog post; we set challenging goals and expect a lot, but in return we want to provide the best possible support for everyone and understand that no one size fits all when it comes to learning and development. However, if you want to develop and aim high, you need to be in the driver's seat and take control of your career development. We are there for each other, and with all the tools we have, we will do our best to help everyone realise their potential.
So, maybe you want to check out our current job openings, and come and grow with us?
Blog writer,
Päivi Riesen
People Operations Specialist,
Learning & Development